Bear Creek Adventures LC
PO Box 705
Pecos, NM. 87552

(505) 757-6229
Cougar Hunt
October 1, 2007 through March 31, 2008
or until quota for the specific zone has been met.
---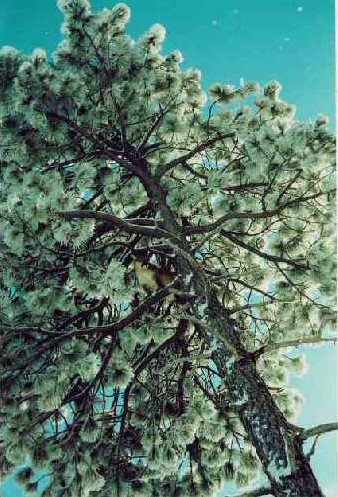 Cougar hunts are fast, exciting and exhilarating! We start out in 4x4 vehicles and ultimately travel on horseback and/or on foot or snowshoes. Well trained Big Game Hounds are utilized on hunts for mountain lion and the chase is usually very rigorous. Excellent health and physical ability are mandatory for these hunts.

By NMG&F regulations, cougar (mountain lion) hunters must purchase their license at least two days before hunting. Licenses can be purchased by mail or online. Click on the links at the bottom of this page.

Included:


One on one guide service.


Lunch and snacks.


Transportation during the hunt.


Riding horses.


Game care, skinning, quartering.


Transport of hide to a taxidermist in Santa Fe.


Transport of meat to a processor in Pecos or Santa Fe.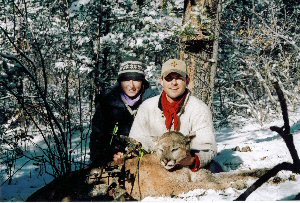 Not included:
License fee.
Taxidermy fees.
Habitat stamp.
Taxes.
Meat processing.
Meals,except lunch.
Lodging.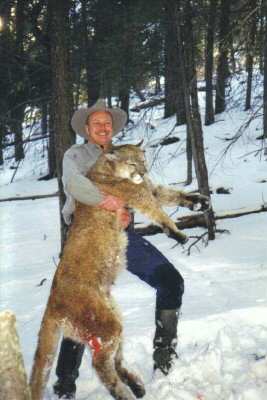 COST: Please Contact Us For Pricing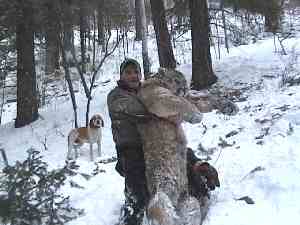 Recommended Personal Gear For A Lion Hunt
Form 3, Licenses by mail
Licenses on line